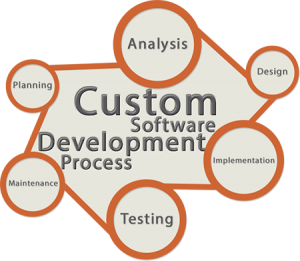 Sharp logic softwares is a boutique outsourcing company offering a full range of custom software development services for a wide variety of verticals and business domains.
Whether you are a start-up or an established business, we will be happy to assist you at any and every stage of the software development life cycle: from conceptualization, business analysis and prototyping to the development and deployment of a complete solution. Sharp logic provides custom software development services to clients when their business strategies and requirements are not adequately met by packaged software.
We work closely with the clients to understand their business objectives, define their software requirements, write specifications by involving our experienced business analyst and subject matter expert, design, architect, develop, test and integrate the custom software across multiple other systems and platforms including internet, cloud and disparate systems enabling the system to function and optimally operate seamlessly for our clients. Our custom software development services help clients build and integrate sophisticated business applications and/or websites with client server and legacy systems. We create and deploy robust, scalable and extensible architectures for use in a wide range of industries.